Luxury Van Rental in Riyadh
If you are visiting Riyadh with your family and want to make your time with them memorable and enjoyable, book a van or a MiniBus with us. We expect you to love our new brand of vans, as well as our excellent services. We provide the most affordable van hire Riyadh service. Unfortunately, many huge rental firms have prominent marketing on their websites for economy vans, luxury vans, and buses, but when you rent a van in Riyadh, only a few companies will know you. However, we are pleased to inform you that we offer comfortable and luxury Van Rental with Driver or Mini Bus Rental with Driver in Riyadh at affordable rates. Please contact us for the best van rental Riyadh service at reasonable pricing.
Jeddah has much to offer to everyone visiting the city. If you are planning to visit Riyadh either for casual tours or corporate tours then book our Van Rental in Riyadh. Van rental is a great option if you are traveling to Riyadh with your friends, family, or coworkers. We have to offer a selection of vans to satisfy your particular needs. You can rent a van in Riyadh with Luxury Ride to have a safe and efficient dropoff with your group of friends or family around the hustle-bustle of Riyadh Capital city.
In Riyadh, you can book luxury vans with drivers or Luxury Van Hire with Driver. We offer low-cost Mini Van rentals in Riyadh, as well as 7, 9, 12, 14, 16, and 19-seat vans with drivers. Our chauffeur vehicle rental booking method is straightforward and simple. If you want to have a large glory picnic party or a pleasant trip to Riyadh, rent a minivan with driver in Riyadh and save money on fuel, toll gates, taxes, and other expenses. Our trustworthy and experienced drivers will meet you at your door and safely transport you to your destination. We have a huge number of autos and other products with comfy seat belts. Vehicles with 7 seats, 10, 14, 16, and 19 seats are constantly available in our fleet. Our 7 seater van or a 12 seater luxury van is an ideal deal for a large group that too with premium seating, latest safety features, amenities and security. Enjoy group sightseeing tours, share the overall travel cost, and enjoy the road trips around Riyadh without any hassle.
Neat & Clean Cars
According to Dubai road and transport rules we are strict to clean our all cars on a daily basis To provide you relaxing, comfortable and Hygienic rides.
Professional Drivers
All our drivers are trained and certified from authorized centers to keep our clients confident Relax and enjoyable journey, with us you are in safe hands.
Wide Range of Vehicles
We had a wide range of Economy Sedans, Business Class SUVs, Luxury Sedans, Luxury Van and Minibusses in our fleet to provide you professional services.
Safe & Luxurious
The cars available at Luxury Ride Riyadh are top of the line in terms of quality and safety with ultimate luxury. Het neat and clean cars with experienced and professional chauffeur drivers.
Award Winning
Get the most comfortable, luxury and reliable transport services from the award winning transport company in Riyadh. Sit back in style and enjoy your stay with us in Riyadh.
Reasonable Price
No one can beat us at prices because we offer more affordable prices. The exotic and luxury cars on offer are available at competitive prices and you will get your money's worth.
Book within Minutes
Our booking system is very simple, secure and reliable. You can book your required vehicles with us on a phone call, sending us your requirments in email or by filling quatation form on the website.
Luggage & Suite Cases
Luggage can be accommodated very safely and securely. You just need to inform us about your luggage bags and rest is our responsibility to make arrangments to bring your luggage safely.
Child Seats
Free child and baby booster seats are available. Please request child seats when booking your vehicle. Child seats will available on demand make sure to inform us about your requirements before booking.
Van Type – 9/19 Passengers
Toyota Hiace
Standard Van - 14 Passengers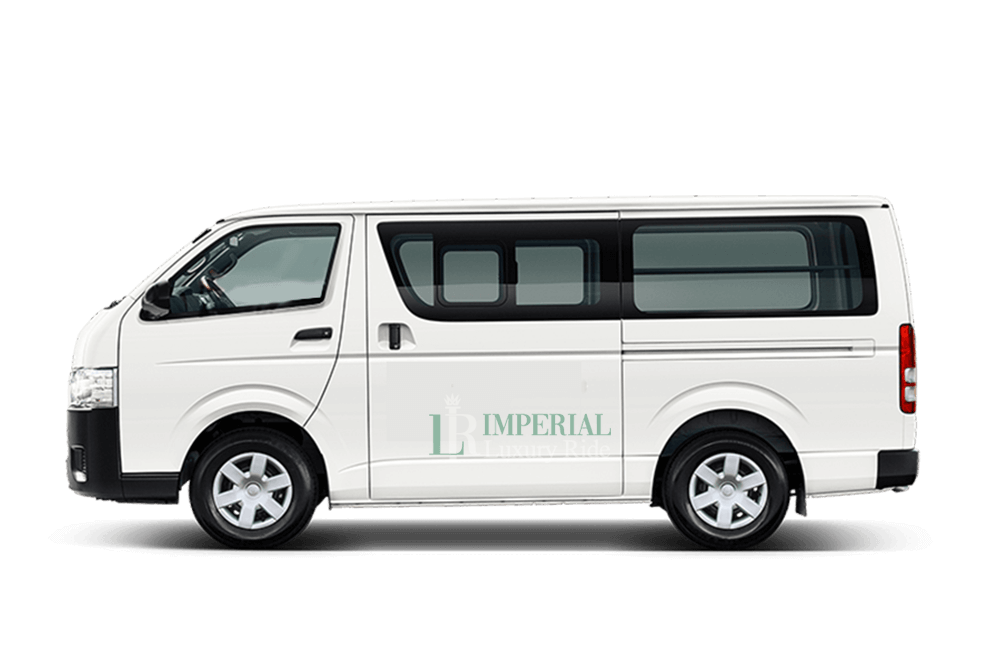 5 Hours (Half Day)

10 Hours (Full Day)
Mercedes Benz Sprinter
Luxury Van - 19 Passengers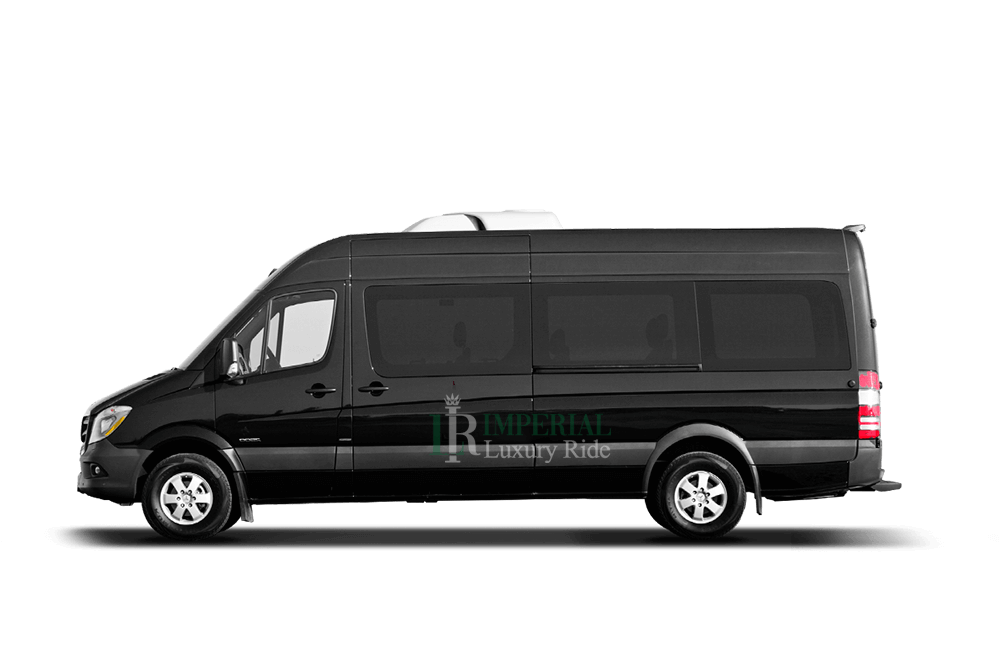 5 Hours (Half Day)

10 Hours (Full Day)
Hyundai Staria 9S
Luxury Van - 9 Passengers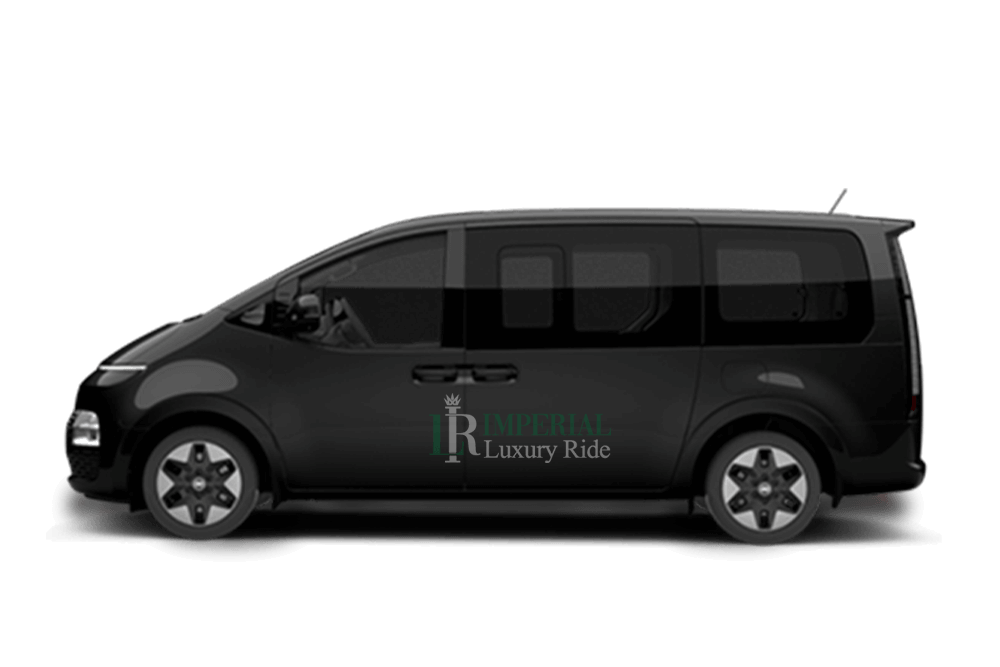 5 Hours (Half Day)

10 Hours (Full Day)
Hyundai H1
Standard Van - 11 Passengers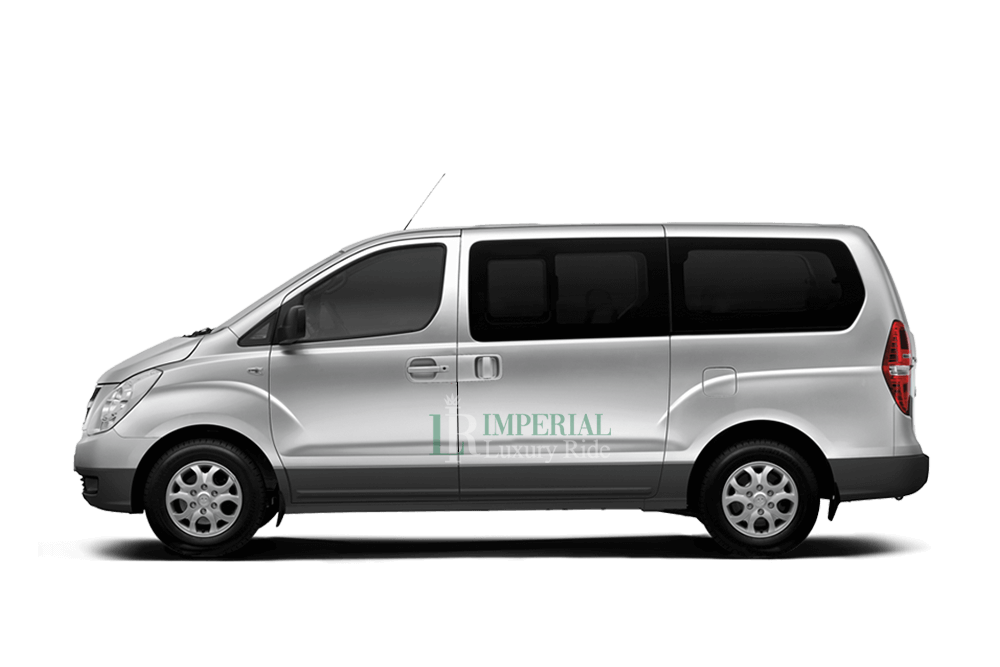 5 Hours (Half Day)

10 Hours (Full Day)
Van Rental Riyadh with Driver / Cheap Minivan Rental Riyadh
Luxury Ride Riyadh takes pride in being the highest-rated van rental in Riyadh with a fleet of vans consisting of luxury to economic categories. We assure you that there is something for everyone. Just let us know your budget or hit our domain and enter the cost you are up to pay and you will be provided with the most suitable van rental option in Riyadh. With our affordable van rental service in Riyadh, getting around the diverse districts of the capital city is far easier than it can ever be. Enjoy the richness of culture in Riyadh. Visit the national museum of Riyadh in Riyadh with your friends and learn about the beauty of Arabic traditions and Islamic history or visit multiple souks (markets) to satisfy your inner shopaholic. We have to offer the biggest fleet of luxury and economical vans that are perfect for any occasion. Our Chauffeured driven van service is a perfect choice for those who want to travel around Riyadh without having to worry about driving on their own. If you wanted to get away from your hectic schedule. As a result, our knowledgeable drivers will take you to the most popular and well-known locations in Riyadh. Please contact us if you are a small party in need of new comfort minivans, cheap minivan rental Riyadh, or luxury van rental Riyadh. In Riyadh, executive chauffeur services and luxury van hire are available. Chauffeur van Hire Riyadh allows you to fully experience the best chauffeur transport, whether it's for one-way transfers, financial roadshows, Air shows, business and sporting events, or private airport transfers. We provide premium chauffeur-driven Mercedes-Benz Sprinter, Viano, and V-Class 7 passenger vehicles, as well as Range Rover Vogue Autobiography and Toyota Hiace vehicles, as well as the most thoroughly verified experienced executive chauffeurs Riyadh, has to offer. van for rent in Riyadh  – Riyadh cheap van hire – Riyadh cheap van rental – van for rent Riyadh – 14 seater van for rent in Riyadh.
Van Rental Riyadh with Driver / Cheap Minivan Rental Riyadh
Which are offered at attractive, reasonable prices. You can travel between cities in highly conspicuous cars for Fun Tours, Picnic Groups, Airport Transfers, and wedding parties. Our 14-seat automobiles are another popular choice among our clients. Which minibuses are in our fleet? For those who are away from the enjoyment of school and college vacations, as well as the playground, you will never be dissatisfied. Our luxurious fleet is a wonderful option for you. Our trucks are equipped with microphones and double doors. You don't have to worry about fuel, toll gate taxes, parking, van cleaning, maintenance, or VAT tax on the Van because it has comfy seats and a high ceiling that allow you to see all of the lovely views of the city. Our Fleet stands are conveniently positioned in the heart of the city. We can get to any location in the city in 30 to 45 minutes. Please contact us at any time; we are available 24/7. Chauffeur Car Hire Riyadh strives to offer the best transportation services to all visitors to Riyadh. You can rent a van with a driver in Riyadh right now and get a high-quality van rental experience in Riyadh. We have a team of experienced chauffeurs and drivers who know their job very well. They will take care of all of your driving needs. They are licensed and before we hire them, we perform a strict background check so you will be assured that you are traveling with your group of friends safe and sound. You can take a look at available van rental options on our website that have different sizes and capacities, fuel efficiency. van for rent in Riyadh – Riyadh cheap van hire – Riyadh cheap van rental – van for rent Riyadh – 14 seater van for rent in Riyadh. With Luxury Ride Riyadh's wide range of van rental options from 12 seaters Mercedes Viano, 7 seater van Toyota Previa, 12 seater Mercedes Sprinter, 14 seater van Toyota Hiace and 7 seater luxury van Mercedes Viano. If it isn't still enough for you then check our search form and fill it out. You will be provided with the best van rental options at Riyadh Downtown, Riyadh.
Airport Transfer Service
We offer airport transfer service from hotel to airport and from airport to hotel or residence community. You can select our best luxury van for your airport transfer at very cheap rates. If you come to Riyadh for sightseeing and making fun. We are here to make your trip memorable. You can hire our best professional chauffeur service in Riyadh with affordable prices, regarding the booking or any information we are here to assist you. Stopping before a choice whether to use a taxi service or to rent a van in Riyadh for a limited time period, then consider using our van rental service for maximum convenience. Instead of splitting your group of people in taxis or cars why not travel together with the available van rental options. Even if you have to travel for a shorter time with a limited budget then it will not be an issue with this scenario. Using our economic van rental service in Riyadh tours will not only give you maximum comfort but you can also enjoy paying less for all the amenities that our vans come with such as a large luggage department, Bluetooth and wifi connectivity, air conditioned seating, along with the company of experienced Chauffeur driving for you. van for rent in Riyadh – Riyadh cheap van hire – Riyadh cheap van rental – van for rent Riyadh – 14 seater van for rent in Riyadh. Book your van from our van rental service in Riyadh and you will surely gonna have a great traveling experience.
Contact Us Today To Book Your Van Rental Service In Riyadh
We are working 24/7 to provide instant service to all the existing & prospective customers on all the Services our payment methods are very easy and friendly to reachable with you in terms of cash, online bank transfer, by credit card or by payment links. If you are looking for Luxury Car Rental with Driver in Riyadh or Rent a Car with Driver in Riyadh then we should be your first Choice Call Us For Bookings at Contact our Customer experts to reserve your service.